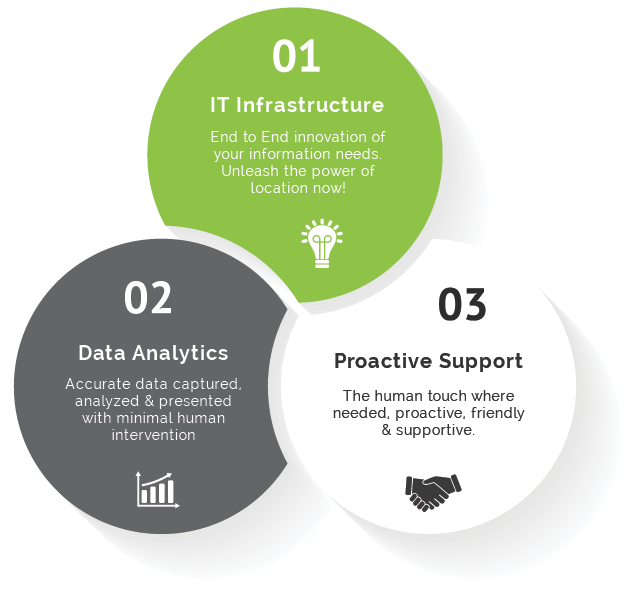 Our cutting-edge IT solutions are strategically planned and tailored according to your specific enterprise needs.
We take pride in :


Fast Turn Around Time


High Accuracy


Easy Implementation


Simple Execution


Customized Dashboards


Need Based Reports
Smart City Solutions
---
[cwa id='enterprise-bfsi-solutions']
Parking: Smart City Parking Solution
Buildings: Smart Building Fire detection System
Infrastructure: Structural Health Monitoring with OFS
Security: Perimeter & Fence Security Covert Solution
Facility: Connected Boom Barrier Solution
Enterprise Solutions
---
Employee Transport Management
Automated Active Attendance System
Facility Utilization Monitoring
Password Less Login using Activus
Field Force Tracking and Automation
Merchandisers Tracking & Monitoring
Our tried and tested solutions, developed for our clients, have helped them in managing the following bottlenecks:
Improved ROI for Logistics Management
Being able to track your logistics fleet in advance and accordingly preparing the loading / unloading of the next dispatch can help you reduce your downtime on resources. As a result, your number of trips on a monthly average can see a hike of upto 20%.
For any delivery, rather than depending on the driver or on guess work for the information, data driven accuracy will give you more credibility for your business to your clients.
Employee Safety for Field and Odd Hour Operations
Your employees are your true assets. People who work hard with you; people who generate wealth with you and people who also work odd hours at times. We value you and your people and hence bring you employee safety solutions. This solution has special applications in case of late night drops, women's safety, and field staff since it gives them options to raise alarms.
Efficient Personnel Attendance and Management System
All Enterprises who have a field force commonly face a challenge around attendance management. The only source of the information related to the field activity and whereabouts is the verbal or written reports submitted by the employee. This can be seamlessly streamlined by location based monitoring of the team.
With real time data which is both time-stamped and gives the location of a particular person, the management of field task assignment, delivery and reporting is simplified with high accuracy and can be accordingly planned better.
Asset Security and Protection
Anything from your logistics, to your shipments, documents, people, heavy machinery and high value consignments is an asset for you. And we understand your concerns for their safety. Accordingly, we develop custom-based solutions and dashboards to obtain and present data in a way that is easy to understand. The way it is useful and the way you want it analyzed.