With increased penetration of SMART Devices, there is a rapid increase in the number of devices in every Business. Almost all the business functions now need a laptop and network connectivity using the Infrastructure that is powered by many intelligent devices which are backbone of every business operation. All these machines are communicating to business applications which are powered by servers hosting these business applications and a number of middleware applications that integrate and communicate to other business applications and make the business function smooth and easy.
All these IT Assets need to be safe and secure to keep the business function running and organizations are implementing CMDB (Configuration Management Database). CMDB is a centralized repository that stores information on all significant entities in your IT Environment and covers Hardware, Software and Business Services and People who are part of IT System.
Activus – enhances the capability and strength of CMDB Implementation by making using of Active RFID Beacons. Activus confirms and validates the physical locations of IT assets in your office, data centers and disaster recovery facilities in almost real time. This confirms the integrity of your CMDB Data which is mostly relying on Auto Discovery Tools by adding another layer of validation that is continuously monitoring the physical presence of the Assets tagged with Activus Beacons.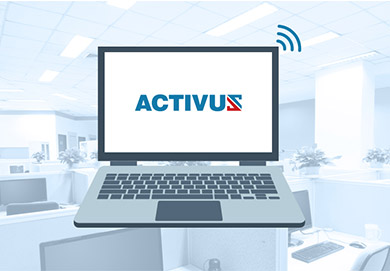 The solution is based on Three Important components which are:
Activus Tags which are small form factor, self-powered tags that are installed on all IT Assets that need to be monitored for their presence or need to be monitored for their location in case these are mobile assets like Laptops which can be present at different office locations. Once installed, these tags communicate wirelessly with Activus Readers
Activus Readers which are 2.4GHz readers that are installed in the facilities where Physical Presence of IT Assets is to be monitored. These readers are scalable and can be installed without causing and interference to your existing Wireless Networks. These readers can scan upto 2000 tags per second and are horizontally scalable on your network using PoE.
Activus Software Application – An Intelligent Dashboard that can be used at the time of Installation, Procurement of IT Assets and also to create on-demand reports about Asset Presence and location as all tagged assets are reporting their location and presence to this application.
Activus eliminates the need of physical audit of IT Assets as these assets are part of the Activus System and are reporting their location and presence in almost real time to a central application. The application also has push and pull APIs for integration with various ERP or CMDB systems to offer scalability of the solution.
This can facilitate easier Asset Lifecyle Management by offering a central convenient dashboard that has details for IT Asset Installation, Repair Details, Warranty Details, Manufacturer and Procurement Details, Asset Movement Reports and Decommissioning details. The details provided by Activus Solution help IT and IT Helpdesk, Facility and HR Department, Procurement Department and Auditors and improves the productivity and efficiency of these teams leading to faster business growth. This saves a lot of precious man-hours in asset audit process and provides accurate data by eliminating any errors due to manual scans. The results that you can expect are a huge reduction in asset audit and no need to follow complex procedures and visit every facility for audit as your IT Asset Inventory is always updated.
To top this all and make it convenient for you, we offer complete handholding and support to integrate Activus as a part of your processes by offering On-Site Support, Complete Training to your Departments and our team of Engineers and Consultants are available to understand how Activus can be a part of your IT Infrastructure for increased efficiency and productivity.
Want to see this in Action? Get in touch with info@dynakode.com